Thanks to Dave Bricker for the great FLATPICK-L banner.
---
Flatpick Guitar Exercises
Sean Barry's Pearl Inlay Techniques
---
Links Farther Down on This Page

Flatpickers - Dead or Alive
Guitar Pickin' Links (Tab, Chords, Theory, etc.)
Guitar Makers and Sellers
Other Guitar-related Links (Picks, Capos, Supplies)
Bluegrass Links
Other Music Links
Funny Stuff


---
Flatpicking Guitar Magazine was one of the greatest resources for flatpickers for 20 years. It ceased publication in 2016, but the website was still up the last time I checked.

---
---
A useful piece of software for learning recorded tunes is the Amazing Slow Downer. It's available for both Windows and Macintosh (including OS X), and does a wonderful job of slowing down fast tunes without changing the pitch. You can specify how much to "stretch" the tune, and can adjust the pitch, as well. It can read tunes from CDs, as well as reading MP3 files from disk.

---
A lot of online tablature is available only in TablEdit format (.tef). You can purchase TablEdit or download the free TEFview viewer on the TablEdit Tablature Editor site. They are availble for both Mac and Windows.

---
Flatpickers - Dead or Alive: (Back to Top)
Rolly Brown - National Fingerpicking Champ, 1980 - Now a Flatpicker, too
Brad Davis - Hot picker (not just Bluegrass, either) - Online Guitar Tips

Beppe Gambetta - Monster Picker and Great Cook
David Grier - Innovative Hot Picker
Jim Hurst - Amazing Picker - Bluegrass, Country, Jerry Reed Fan
Steve Kaufman - Three-time National Flatpicking Champ - Instructional Materials, Flatpick Camp
Steve & Penny Kilby - Alleghany Music Co.
Bryan Kimsey - Flatpicker, Guitar Set-ups
Kenny Smith - Kenny and Amanda Smith Band

Jeff Snow - Multi-instrumentalist, instruction
---
Guitar Pickin' Links: (Back to Top)
Acoustic Guitarists' Annotated Guide to the Internet
Annie's Texas Swing Chords for Guitar
Custom Tabs - Transcription Service for Bluegrass Guitar and Mandolin

ezFolk Media Store - Guitar tab

Flatpicked Guitar Music - A vast number of great tabs in TablEdit format from Mike Strangeland and Kim Davis

Free-Tabs.Com - Mostly modern, but lots of links to other styles, too

Guitar Chord Charts: All you need to know about jazz guitar chords
Guitar Notes - Guitar Tab of All Kinds
Harmony Central(R): Guitar: Tablature
13h Fret Acoustic Guitar Discussion Forum

Twelvemonth Music - Guitar music notated in visualinear™ tablature

---
Guitar Makers and Sellers: (Back to Top)
Charley's Guitar Shop (Dallas, TX - where I got both of my current dreadnought guitars)

Dudenbostel Stringed Instruments

Stringed Instrument Division - Vintage Instruments
---
Other Guitar-related Links: (Back to Top)
JLD Guitar Research & Development

Kradle Guitar Picks and Accessories - Unique "self-correcting, variable position" picks
Leonard Musical Instruments - Ivory instument parts, Inlay supplies

PlayBetterBluegrass.com (Instruments, supplies, manuals)

Stewart Macdonald's Guitar Shop Supply

---
Bluegrass Links: (Back to Top)
America's Music: Bluegrass - A history of bluegrass music in the words of its pioneers

Bay Area Bluegrass Association - League City, TX

The Bluegrass Home Page (Photos, Festivals, Reviews)
Central Texas Bluegrass Association
Front Porch Stage - Mount Ida, AR

Greater Oklahoma Bluegrass Association

International Bluegrass Music Association
Minnesota Bluegrass & Old-Time Music Association

The Ottawa Valley Bluegrass Music Association
Society for the Preservation of Bluegrass Music of America (SPBGMA)

Southeastern Bluegrass Association

Southwest Bluegrass Club (North Texas, DFW area )

---
Other Music Links: (Back to Top)
Chiff & Fipple - Forum devoted to various instruments used in Irish Trad, including a String forum

Chris Smith - Mostly Tenor Banjo in Irish Music, author of Celtic Backup, also very useful to guitarists

The Fiddler's Companion (encyclopedia of fiddle tunes)

FlexiMusic - Audio Editing, Recording, and Composing Software for Windows

Hardanger Fiddle Association of America
Homespun Tapes - Music Instruction
Pride and Joy - The Stevie Ray Vaughan Archive
---
I use iDataTM Pro, a little Mac database application that I wrote (and publish), to keep the track of all of my guitar tabs. Here's a sample record from the Mac version. (This shows the Mac version. There is also a version, iData Mobile Plus, for the iPhone and iPad.)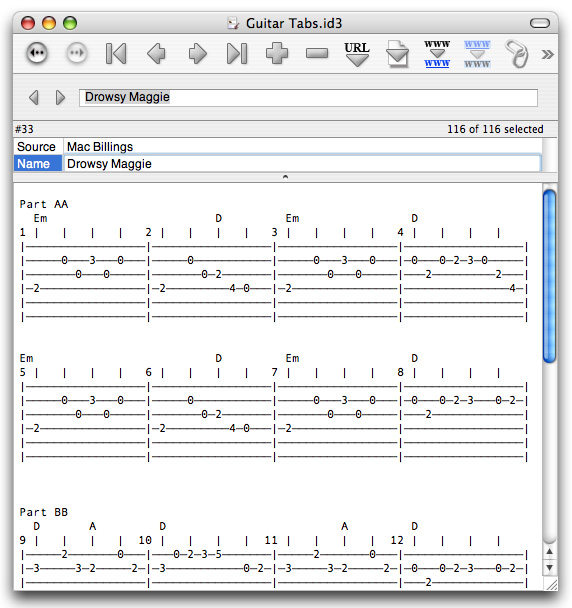 ---

Back to RaccoonBend.com Home Page.
---
To send suggestions and criticism, click here.
I'm especially interested in adding more Bluegrass and flatpick guitar links.